Övrigt
Get to know NiP-f0rest-
Patrik Lindberg appears to be an average guy, living in the Kallhäll, Stockholm, together with his girlfriend Sandra and their dog Izno. He's not too ordinary though, as he's one of the greatest esport stars in the history of gaming.
Sidan 1
It all began in Upplands Väsby, where Patrik grew up. He began playing videogames at an early age, and kept his interest for gaming during his growth. Soon after the year 2000, he came in touch with the Half-Life modification called Counter-Strike, all thanks to a father to one of Patriks friends, who played the game.
I started playing videogames at a very young age and I have always had a large interest for games growing up. I started playing CS when I was around 12-13 years old after I tried it out at a friends place, whose father played it. After that, I was hoooked to the game we all have grown to love.
After alot of playing, Patrik joined up with clans named seadogs and d00m, and later on advanced to a LAN café sponsored team called Virtual Experience Online, VxO abbreviated, where Tentpole amongs others played.
He was only 15-16 years old during his time in these teams, and it didn't take long until people started noticing him. After a lesser success in VxO, both f0rest and Tentpole went to a newly renovated team called Embrace. This group of people did alot of noise during Optihack 2005, where they were their performance was a huge upset.
They defeated, amongs others, Pentagram (an earlier version of todays ESC Gaming), Eyebalelrs, e-star and mTw.ATI to end up in second place, winning 25 000 SEK, which is approximately 2,900€.
"The upset" Embrace during Optihack
From the left: RobbaN, Rauk, VonoX (in the back), f0rest (in the front), solido och Tentpole.
The legendary player Dennis "walle" Wallenberg, whose Eyeballers was defeated by Embrace, gave a relatively flattering statement regarding the team and f0rest in an
interview with SK Gaming
after the LAN.
They have a few skilled players like f0rest for example. Too bad he is too young to attend CPL tho. The rest of them are also good. I'm not sure if they will be something to look out for really. If they can find a good substitute for f0rest at events with age limit, I guess they can do good, walle said after Optihack.
Only months later, f0rest, RobbaN and Tentpole left Embrace to become a part of Begrip alongside Calippo and IsKall. Patrik was only 17 years old at this point, and was going to travel across the world to compete in the second season of WEG, where close to $90 000 were up for grabs. The location was Seoul, South Korea, and many of you might have a hint on how it ended.
Begrip after eliminating astralis from WEG
From the left: Calippo, Tentpole, f0rest, RobbaN och IsKall
Begrip managed, to everyones big surprise, win the whole tournament over a couple of legendary teams like Catch Gamer, 4Kings, astralis, wNv, Abit Strike, Pentagram, NoA and mTw.ATI. The life of a Begrip player was good at this point, but when they later on "flopped" at CPL Winter 2005, where they ended in sixth place, the Väsby duo of f0rest and Tentole chose to leave the team. Now, they both became a part of fnatic, where f0rest would experience the first of his two peaks as a Counter-Strike player.
2006 was the year when fnatic launched and I got such a motivational boost, I wanted to start performing well again after the "fiasco" at CPL 2005 with Begrip. We were a great gang of people who all really wanted to grab the scene by storm.
And grabbed the scene by storm they did. Even though they stood in the shadow of NiP, they managed to win eSport Team of the Year at the eSports AWards, where f0rest also won the prestigeous award of Counter-Strike Player of the Year. After finishing the year with a victory at CPL Winter 2006, f0rests bother-in-arm Tentpole chose to leave the team. This shook the team a bit out of balance, and they didn't perform as well as before. In the end of 2008, they switched players and took GeT_RiGhT and Gux in to build one of the most successful squads ever.
It felt like the beginning of 2006. We had some shaky performances in '07-'08, and we felt that we needed a change. This change gave us the the old spirit back.
2009 was a huge success for fnatic, winning the majority of the tournaments they played. This was f0rests second peak in his career, according to himself. Though, fnatic didn't win as many titles in 2010 and eventually three players left the team, and in the beginning of 2011, f0rest and GeT_RiGhT went to SK Gaming. They had a successful year as one of the two best performing teams. This was the last team f0rest and GeT_RiGhT represented in CS 1.6 as they, just last week, released the news of their transition to CS:GO and their new team with Ninjas In Pyjamas.
At Copenhagen Games in the beginning of 2012, we got to see f0rest play CS:GO officially for the first time, and he was good. Alot of people claim that Patrik has an extreme talent for learning new games quickly, and he agrees with them to some extent. He claims that he is lagging behind a little in CS:GO so far..
Even though I'm somewhat of a quick learner, I still feel that the Source players have a small advantage in GO, and as a 1.6 player you're a bit behind from the start. But it shouldn't take too long to catch up, especially with Fifflaren and friberg in the team. They are really good at telling us what needs practice. You learn quicker that way. Though I'd say that both GeT_RiGhT and Xizt are better than I am at GO at this moment, haha.


f0rest owns with an AWP during Copenhagen Games' CS:GO-tournament.
So, why does f0rest, as a legendary CS 1.6 player with thousands of fans, switch to a new game?
Personally, I see CS:GO as a new and fresh game, which makes it alot of fun. It's not the same game as 1.6, and there are alot of new things to learn. How the engine works and all the moments that occur is very entertaining to me right now, and if Valve keeps updating the game the way they do now, this game is going to be great.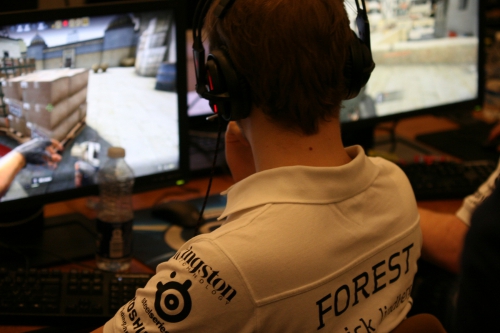 The resurrection of NiP came as a shock to Patrik, but it wasn't mainly the name of the organization that shocked him. The fact that any organization would be willing to bet on Global Offensive in such an early stage of the game was surprising to him.
I was really surprised at first since I didn't think any organization was looking for a team. But after talking to them, I was incredibly happy and even more excited for CS:GO. I have played the game since an early beta and I've had loads of fun, but now I'm really looking forward for eventual tournaments that will appear. To really start over with a new game and hopefully get the same amount of success as in CS 1.6. Also, it feels great to play under the NiP flag, of course. It's the only Swedish top clan I havn't yet represented, so it feels great to be a ninja right now.
Om det är något som man alltid kan uppskatta så är det fair play. Därför har vi tagit fram fem ögonblick ur CS:GO-historien som visar upp riktigt fint sportmannaskap.
Kommentarerna nedan är skrivna av användare på Fragbite. Fragbite granskar inte sanningshalten i texten och du uppmanas att själv kritiskt granska och bemöta texten. Förutsätt inte att innehållet i texterna är sanning.